I'm gearing up for my September Work of Art class, preparing lots of samples to share, so thought I'd use this week's PPA challenge in one of my samples.
This is a bright, fun combination, perfect for a festive birthday card. The Work of Art stamp presents endless possibilities. Stay tuned for more projects using this stamp set.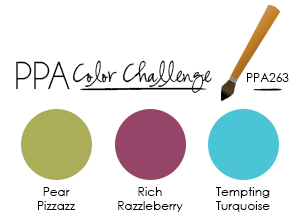 Check out more projects using this eye-catching combo and rules for playing along, click here
.
Be sure to enter your email address in the column to the right to have my posts delivered right to your email box.
Thanks for stopping. Make it a great day1